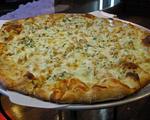 Prep: –
Cook Time: –
Total: –
Serving: Makes 2 (11-inch) pizzas
This clam garlic pancetta pizza recipe is a perfect taste of Italy.
Ingredients
1 (13.8-ounce) tubes refrigerated pizza dough
1/4 pound pancetta, chopped
2 garlic cloves, slivered
6 ounces minced clams
3/4 cup creme fraiche, at room temperature, divided
1/2 cup grated Muenster, at room temperature, divided
Directions
Heat one side of the grill to high heat and one to low heat. Form the dough into two 11-inch circles and brush one side of each with olive oil.
Cook the pancetta in a frying pan over medium heat until it is crispy. Take pancetta out of pan with a slotted spoon and place in a bowl. Add the garlic and clams into the same pan and cook about 5 minutes. Remove any extra liquid and add the pancetta back into the mixture.
Place dough on oiled grill, oiled side down, and cook 1 to 1 1/2 minutes, on the high side. Move dough onto a cutting board, grilled side up. Top the crust with creme fraiche, Muenster, and the pancetta clam mixture.
Move the pizzas back onto the grill on the low side and grill, with lid shut for 3 to 5 minutes, rotating 45 degrees about halfway through. Move pizza to a serving platter with two spatulas. Slice and serve.