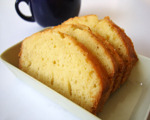 Prep: 15 min
Cook Time: 1 hr 10 min
Total: 1 hr 25 min
Serving: 20 People
Impress your friends with this sweet pound cake at your next breakfast gathering. Can be dusted with powdered sugar prior to serving.
Ingredients
2-2/3 cups sugar
1 cup butter, softened
6 eggs
2-3/4 cups flour
1/2 teaspoon salt
1/4 teaspoon baking soda
1/2 teaspoon vanilla extract
1/2 teaspoon orange extract
1/2 teaspoon lemon extract
1 cup sour cream
Directions
Beat sugar, butter and eggs in a large bowl.
In a separate bowl, combine flour, salt and baking soda.
Blend flour combination into egg mixture.
Mix in extracts and sour cream until mixture becomes smooth.
Pour batter into a greased 10-inch tube pan and bake at 350 degrees F for 1 hour and 10 minutes.