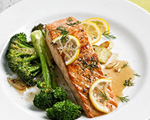 Prep: 10 min
Cook Time: 20 min
Total: 30 min
Serving: 4 Servings
Salmon and citrus are a match made in heaven. You can also use orange juice instead of the lemon juice in this light and healthy recipe.
Ingredients
1 lemon, juiced
1/2 lemon, thinly sliced
1 tablespoon sugar
2 tablespoons butter
Sea salt and freshly ground pepper
4 4-ounce skinless salmon fillets
1 tablespoon snipped fresh dill
1 pound broccoli, trimmed, quartered and cut into spears
4 cloves garlic, peeled and sliced
Directions
Place 1/4 cup water in a measuring cup and then add the lemon juice and the sugar. Stir the mixture until the sugar has completely dissolved.
Place the butter into a large sauté pan over medium-high heat. Sprinkle the salmon on both sides with a few pinches of salt and pepper and then place in the pan.
Cook the salmon for 3 minutes, flip, and then top with the lemon juice mixture, the dill and lemon slices. Cook for an additional 6 minutes then place on a serving plate.
In the meantime, heat the remaining oil in another sauté pan over medium heat and add the broccoli and the garlic. Sauté the mixture for 9 minutes and then serve with the salmon.