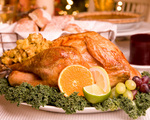 Prep: 15 min
Cook Time: 4 hr
Total: 4 hr 15 min
Serving: 12
By far, a golden roasted turkey is the focal point of many a Thanksgiving table and too often the bane of a holiday host.
Ingredients
8 to 12 pound turkey, thawed (allow 1 pound of turkey per person or plan on leftovers)
2 large ripe oranges, washed, quartered (or other citrus)
1 large onion, cut in eighths or tenths
3 tablespoons Italian spice blend
Salt
Black pepper
Directions
Preheat your oven to 325 degrees F.
Adjust an oven rack to the lowest position and remove other racks.
Remove the giblet bag and neck from turkey.
Reserve the neck for homemade turkey stock and save the giblets for gravy, if you plan on making it.
Rinse the inside and outside of the turkey with cool water and pat dry with paper towels.
Place the turkey breast-side up on a roasting rack in a large roasting pan (17-1/4 x 11-1/2 x 2-1/4 inches).
The roasting rack is optional but will allow the fat of the turkey to drain into the bottom of the pan while cooking.
If using a disposable aluminum pan from the store, buy one that is heavy-duty and has handles.
Separate the skin from the breast by carefully sliding your fingers underneath starting at the neck.
Lift the skin from the breast and legs without tearing it. Tuck the orange and onion wedges under the skin and in the crevices between the turkey breast and legs and wings.
Stuff the cavity with some of the lemon and onion wedges.
Rub the outside of the turkey with olive oil. Sprinkle generously with the Italian spices, salt and black pepper, patting spices onto the skin.
Cover with foil and carefully place pan on lowest rack.
Cooking time for an unstuffed 8 to 12 pound bird is 3-1/4 to 4 hours.
Remove the foil for the last 30 minutes of cooking to brown and crisp the skin.
Insert an instant-read thermometer into the thickest part of the leg parallel to the bone or directly into the breast to test for doneness.
Turkey is ready when the juices run clear and the internal temperature of the leg is 180 degrees F and the leg moves easily (or the breast reads 170 degrees F).
Let the turkey rest for 15 to 20 minutes to allow the juices to set, then carve away.