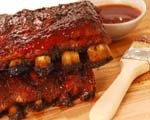 Prep: –
Cook Time: –
Total: –
Serving: Makes 2 1/3 cups
The tart citrus flavor really brightens up this incredible BBQ sauce recipe.
Ingredients
1 large onion, finely chopped
1 Ancho chile, seeded, finely chopped
1 tablespoon ground red chiles
1/4 teaspoon ground red pepper
1 tablespoon vegetable oil
1 cup orange juice
1/2 cup lime juice
2 tablespoons sugar
2 tablespoons lemon juice
1 tablespoon fresh cilantro, snipped
1 teaspoon salt
Directions
Saute onion, Ancho chile, red chiles, and ground red pepper in oil over medium heat, until onion and chile are tender, about 5 minutes. Mix in the remaining ingredients and bring to a boil. Reduce heat to low and simmer 10 minutes, stirring occasionally. Let cool and store in an airtight container in the refrigerator for up to 1 week.