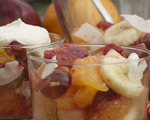 Prep: 45 min
Cook Time: –
Total: 45 min
Serving: 4 Servings
The bright and sweet intensity of citrus fruit is combined with a mix of apple, banana, grapes and coconut, and then topped with a dollop of whipped crème fraiche.
Ingredients
4 pounds citrus fruits
1 apple, cubed
1 banana, sliced
1/2 grapes, sliced in half
1/2 cup organic, unsweetened coconut flakes
1 tablespoon sugar, or to taste
1 (8 ounce) container crème fraiche
1/2 cup heavy whipping cream
3 tablespoons powdered sugar
1/4 teaspoon pure vanilla extract
Directions
Using a sharp knife, segment all of the citrus fruit and then place into a bowl with the apple, banana, grapes, and sugar. Toss gently to combine and then place in the refrigerator, covered, to chill for 30 minutes.
In the meantime, beat the crème fraiche with a handheld mixer on low and then slowly add the heavy cream and continue to beat until foamy and thick. Slowly sprinkle in the sugar and vanilla, and continue to beat until the mixture forms soft peaks.
Remove the fruit from the refrigerator, add the coconut flakes and toss once again to combine. Serve the fruit mixture in dessert cups topped with dollops of the whipped crème fraiche.