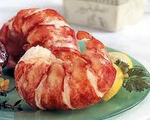 Prep: 30 min
Cook Time: 25 min
Total: 55 min
Serving: 6
Cioppino Tutto Mare is the ultimate seafood stew.
Ingredients
1 ounce dried porcini mushrooms
1 cup warm water
3 tablespoons olive oil
1 large onion, chopped
4 garlic cloves, chopped
1 (28 ounce) can Italian crushed tomatoes
1 tablespoon fresh oregano, chopped
3 pounds assorted thick fillets such as cod, halibut and red snapper, cut into 2 x 3-inch pieces
3/4 pounds shrimp, shelled and deveined
1/2 pounds scallops, trimmed
6 frozen lobster tails, 5 to 6 ounces each, defrosted
3 tablespoons fresh parsley, minced
garlic bread
Directions
Soak porcini mushrooms in warm water for 20 to 30 minutes, or until softened. Remove and rinse under running water to remove any grit. Coarsely chop; place in a small bowl. Strain liquid through cheesecloth in bowl with mushrooms. Set aside.
In a 10 quart stockpot, heat olive oil. Add onion and cook over medium heat for 2 to 3 minutes, or until softened. Add garlic and cook 1 minute longer. Add tomatoes, mushrooms plus their liquid and oregano. Simmer, uncovered, for 10 minutes to blend flavors.
Add fish, shrimp, scallops and lobster to casserole. Cover and cook over medium low heat 15 to 18 minutes, or until shrimp are pink and lobster is bright red. Do not overcook. Sprinkle with parsley.
Serve a portion of shellfish and fish to each person with a generous amount of sauce. Pass the garlic bread.