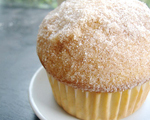 Prep: 25 min
Cook Time: 23 min
Total: 48 min
Serving: Makes 12 muffins
These muffins are moist and delicious with fragrant flavors of fresh nutmeg and cinnamon. Enjoy for breakfast over a piping hot mug of coffee or tea.
Ingredients
1-1/2 cups flour
1/2 cup whole wheat flour
3/4 cup sugar
1 tablespoon baking powder
1-1/2 whole nutmegs, grated
1/2 teaspoon salt
1 egg
3/4 cup heavy cream
3/4 cup milk
5 tablespoons unsalted butter, melted
For the Topping:
1/2 cup granulated sugar
2 teaspoons ground cinnamon
Directions
Preheat the oven to 400 degrees and grease a muffin tin with cooking spray or butter.
In a medium bowl, whisk together the flours, sugar, baking powder, grated nutmeg, and salt until well combined.
In a small bowl, beat the egg with a fork and then add the cream, milk and melted butter. Mix well.
Pour the wet mixture into the dry mixture and stir until just combined.
Pour the batter into the prepared muffin tin and bake for 18 minutes. Muffins will be a golden color.
Remove muffins from oven and cool on a wire rack for at least 5 minutes. In a small bowl mix the sugar and cinnamon together and melt the butter in a small pan.
Dip each muffin in the melted butter and then dredge in the sugar and cinnamon topping. Set on a plate and serve.