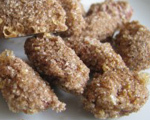 Prep: 10 min
Cook Time: 40 min
Total: 50 min
Serving: Makes 1 cup
These cinnamon sugar roasted almonds are wonderful to have on hand for guests to enjoy with a cocktail during the holiday season.
Ingredients
1 cup raw almonds
1/2 cup sugar
1/8 cup cinnamon
1/2 teaspoon salt
1/2 cup course sugar
2 egg whites
Directions
Preheat your oven to 275 degrees.
Put the sugar, coarse sugar, cinnamon and salt into a bowl and stir to combine.
Place the egg whites in a separate bowl and beat with a fork until foamy.
Put the almonds in the egg whites then dredge in the sugar mixture to coat; transfer to a baking sheet.
Place the almonds in the oven for 40 minutes, tossing frequently to ensure even cooking. Allow to cool slightly before serving.