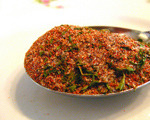 Prep: 5 min
Cook Time: 3 min
Total: 8 min
Serving: Rub for 2 pounds of steak
Cinnamon makes a big and colorful statement in this dry steak rub made with a blend of oregano, sweet paprika, toasted cumin seeds, garlic powder and brown sugar.
Ingredients
1/2 teaspoons cumin seed
1 tablespoon brown sugar
1-1/2 teaspoons cinnamon, ground
1 teaspoon oregano Leaves
1 teaspoon paprika
1/2 teaspoon garlic powder
1/2 teaspoon sea salt
1/4 teaspoon red pepper, ground
Directions
Put the cumin seeds into a small sauté pan over medium heat and toast for 2-1/2 minutes. Transfer the toasted seeds to a mortar and pestle, or a spice grinder, and grind until crushed.
Place the brown sugar, cinnamon, oregano, paprika, garlic powder, salt , red pepper and crushed cumin seeds into a bowl and mix well to combine.
Rub the spice mixture onto the steak at least 30 minutes prior to cooking.