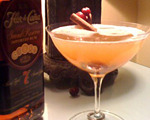 Prep: 5 min
Cook Time: –
Total: 5 min
Serving: 1 Serving
If you cannot find cinnamon simple syrup and cannot make your own, then use plain simple syrup and add 1/4 teaspoon of cinnamon to the shaker before muddling the sugar cubes.
Ingredients
4 sugar cubes
1 ounce club soda
2 ounces aged rum
1 ounce cognac
1/4 ounce peach liqueur
1 ounce fresh lemon juice
1 barspoon cinnamon simple syrup
2 ounces sparkling wine
cinnamon stick to garnish
Directions
Place the sugar cubes and club soda into a cocktail shaker and muddle well until the sugar has dissolved.
Add the rum, cognac, peach liqueur and simple syrup to the shaker along with a large handful of ice. Shake the mixture vigorously to combine and then strain into a cocktail glass.
Top the drink with the sparkling wine and then garnish with a cinnamon stick. Serve immediately.