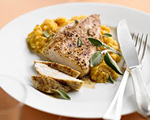 Prep: 10 min
Cook Time: 20 min
Total: 30 min
Serving: Makes 4 Servings
A fabulous dinner meal for 4, enjoy these cinnamon roasted chicken breasts served with pumpkin and fresh snipped sage grits.
Ingredients
4 6-ounce skinless boneless chicken breast halves
1 tablespoon olive oil
Sea salt
1 teaspoon ground cinnamonv
Freshly ground black pepper
1-1/2 cups water
2/3 cup instant grits (two 1-ounce packages)
1/2 cup canned pumpkin
1 tablespoon snipped fresh sage
1/3 cup shredded cheddar cheese
Sage leaves to garnish
Directions
Preheat your oven to 400 degrees.
Place the chicken into a baking pan and drizzle with the olive oil. Rub the breasts with salt, cinnamon and a few grinds of black pepper and then place in the oven for 20 minutes to cook.
In the meantime, place the water into a saucepan and bring to a boil. Add the grits, stir to combine and then stir in the pumpkin, sage and a few pinches of salt.
Bring the mixture to a boil and then reduce the heat to medium-low. Cook the grits for 6 minutes or until thick, making sure to stir frequently to prevent sticking.
Remove the pan from the heat and stir in the cheese. Serve the grits with the chicken breast and garnish with the sage leaves.