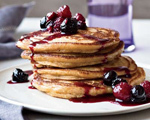 Prep: 10 min
Cook Time: 10 min
Total: 20 min
Serving: 4 Servings
Polenta is ground cornmeal that is widely used in Italian cooking, especially in the northern part of Italy. Try it blended with cinnamon in this simple recipe for pancakes.
Ingredients
1-1/4 cups all-purpose flour
3/4 cup polenta
1 tablespoon sugar
1 teaspoon cinnamon
1 teaspoon baking powder
1/2 teaspoon baking soda
pinch of salt
1 cup low-fat buttermilk
2 large eggs, beaten
1/4 cup olive oil
1/4 cup water
Directions
Place the flour, polenta, sugar, cinnamon, baking powder, baking soda and salt into a bowl and stir well to combine.
Put the buttermilk, eggs, olive oil and water into another bowl and whisk well until thoroughly blended. Transfer the wet ingredients to the bowl with the dry ingredients and mix until combined; batter will be lumpy.
Thoroughly coat a skillet with cooking spray and then place over medium-high heat. Ladle 1/4-cup servings of batter into the hot pan and cook the pancakes until they begin to bubble. Flip the pancakes and cook for an additional 2 minutes before serving hot.