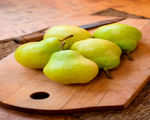 Prep: 20 min
Cook Time: 45 min
Total: 1 hr 5 min
Serving: 8
Yummy with ice cream after a family meal.
Ingredients
1 package refrigerated pie crusts (2 pie crusts)
6 cups peeled, cored, sliced pears
3/4 cup granulated sugar
2 tablespoons all purpose flour
1 teaspoon ground cinnamon
1/2 teaspoon ground allspice
1/4 teaspoon salt
2 tablespoons butter, cut into small pieces
1-1/2 tablespoons milk
Vanilla ice cream
Directions
Preheat oven to 425 degrees F. and fit one piecrust in a 9-inch pie dish.
Mix pears, sugar, flour, cinnamon, allspice and salt in a large bowl, tossing to coat.
Pour pear mixture into pie dish, spreading evenly. Scatter butter pieces on pears.
Fit top crust over pears, crimping the two crusts together to seal.
Brust crust with milk and make slits in top crust.
Bake for 45 minutes or until crust is golden. Serve warm with ice cream.