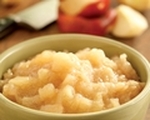 Prep: 20 min
Cook Time: 45 min
Total: 1 hr 5 min
Serving: 8 half cup servings
This is a nice twist on traditional applesauce and can be refrigerated for up to 5 days. Try cooking the fruit unpeeled to add flavor and then pass through a sieve to remove the skins.
Ingredients
1/2 cup natural apple juice
2 pounds Fuji apples, cored and cut into wedges
2 pounds red Bartlett pears, cored and cut into wedges
2 (3-inch) cinnamon sticks
1/2 tsp nutmeg
1/2 lemon, cut into 2 pieces
1/4 packed brown sugar
Directions
Combine first 6 ingredients in a large saucepan and bring to a boil.
Cover pan, reduce heat, and simmer for 45 minutes or until the fruit is tender.
Dispose of cinnamon sticks and lemon.
Using a spoon, press the fruit mixture through a sieve over a bowl and discard skins.
Stir in brown sugar and serve applesauce at room temperature or chilled.