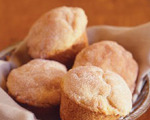 Prep: 10 min
Cook Time: 25 min
Total: 35 min
Serving: Makes 12 muffins
These moist muffins are dusted with a cinnamon and sugar topping prior to be being baked. Slather with a pat of butter and enjoy them warm.
Ingredients
2 cups all-purpose flour
1/2 cup sugar
2 teaspoons baking powder
1 teaspoons salt
1/2 teaspoon freshly grated nutmeg
6 tablespoons butter, cut into pieces
1 egg, lightly beaten
1 cup buttermilk
For the topping:
2/3 cup sugar
1 tablespoon ground cinnamon
Directions
Preheat your oven to 400 degrees F and line a muffin tin with paper-liners.
In a small bowl, combine the ingredients for the cinnamon topping and then set the bowl aside.
Place the flour, sugar, baking powder, salt and nutmeg into a bowl and mix well. Add the butter to the mixture and combine until the texture resembles a coarse crumble.
Stir in the eggs and the buttermilk, mix until just blended, and then transfer the batter to the prepared muffin tin filling each cup two-thirds full with batter.
Sprinkle each muffin with some of the cinnamon topping and then place in the oven. Bake the muffins for 25 minutes or until the center of a muffin springs back when gently pressed.