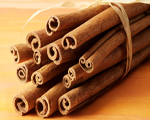 Prep: 20 min
Cook Time: 10 min
Total: 30 min
Serving: 50 People
These spiced cookies will be a favorite among many. Consider sharing with friends and family.
Ingredients
2 cups flour
1/2 teaspoon salt
2 teaspoons cinnamon
1 cup butter
1 cup sugar
2 eggs
1 teaspoon vanilla
Directions
Combine flour, salt and cinnamon; set aside.
Mix butter until creamy. Add sugar and continue to mix until mixture becomes light and fluffy.
Beat eggs and vanilla together; add to butter mixture.
Stir in flour, salt and cinnamon.
Divide dough into 4 sections, rolling each into a 2-inch diameter log. Wrap in foil and chill until firm.
Preheat oven to 375 degrees.
Cut logs into 1/4-inch slices, placing dough onto prepared cookie sheets.
Bake at 375 degrees for 10 minutes or until golden brown.