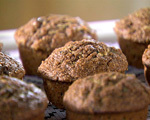 Prep: 15 min
Cook Time: 30 min
Total: 45 min
Serving: Makes 2 dozen muffins
These healthy muffins are actually quite delicious. They make an excellent snack at breakfast or as a pick-me-up in the afternoon.
Ingredients
2-1/2 cups bran flakes cereal
2-1/2 cups flour
1 cup brown sugar
2 tablespoons baking powder
1-1/2 teaspoons cinnamon
3 cups buttermilk
1/2 cup butter, melted
2 teaspoons vanilla
1 cup cinnamon chips
Directions
Mix together bran flakes, flour, brown sugar, baking powder and cinnamon.
Stir in buttermilk, butter, vanilla and cinnamon chips; mix well.
Pour batter into greased muffin tins.
Bake at 375 degrees for 25-30 minutes.