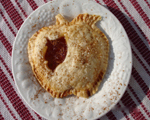 Prep: 15 min
Cook Time: 30 min
Total: 45 min
Serving: 6-8 People
This easy-to-make cake would make the perfect dessert after a holiday dinner with friends and family. Top with vanilla ice cream.
Ingredients
3 apples, peeled and sliced
1 cup flour
1/3 cup honey
1/3 cup sugar
1 teaspoon baking powder
1/2 teaspoon salt
1 egg
1 cup butter, divided
2 teaspoons cinnamon
Directions
Preheat oven to 350 degrees.
Cover the bottom of an 8x8 baking dish with sliced apples.
Sprinkle 1 teaspoon cinnamon and 2 tablespoons of chopped butter over apples.
Combine flour, sugar, baking powder and salt.
Melt remaining butter.
Stir in egg, melted butter and honey into the flour mixture.
Pour on top of apples and sprinkle with remaining cinnamon.
Bake at 350 degrees for 30 minutes or until topping is slightly puffed and a deep golden brown.