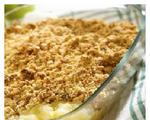 Prep: 15 min
Cook Time: 45 min
Total: 1 hr
Serving: 10-12 People
A tasty fall treat with a healthy twist that is sure to please all members of your family!
Ingredients
8 cups unpeeled apples, cut into slices
2 tablespoons granulated sugar
4 teaspoons ground cinnamon
3 teaspoons lemon juice
1 teaspoon orange juice
1 1/2 cups unsweetened applesauce
1 cup uncooked rolled oats
1/2 cup firmly packed light brown sugar
1/3 cup all-purpose flour
1/3 cup evaporated skim milk
1/4 cup nonfat dry milk powder
2 cups vanilla low fat yogurt or ice cream (optional)
Directions
Start by preheating oven to 350 degrees F.
Grease a 2-quart baking dish with nonstick cooking spray.
In a large bowl, mix apple slices with lemon juice, orange juice, granulated sugar, and 2 teaspoons of cinnamon.
Spread this mixture into baking dish.
Layer applesauce evenly over apple mixture.
In a medium bowl, combine flour, brown sugar, oats, evaporated milk, dry milk powder, and the remaining 2 teaspoons of cinnamon.
Spread this dry mixture evenly over the applesauce layer.
Bake for 35 to 40 minutes, or until the crisp is lightly browned. (Best served warm.)
Add a scoop of low fat vanilla ice cream or vanilla yogurt for an extra treat.