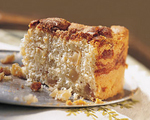 Prep: 50 min
Cook Time: 35 min
Total: 1 hr 25 min
Serving: 1 9-inch cake
Experience the fresh and crisp tastes of fall with this moist and delicious cake. Dust with some powdered sugar or serve warm with a dollop of vanilla ice cream.
Ingredients
2 cups finely chopped raw apples
1/2 cup sugar
1 egg
1 cup flour
1 teaspoon cinnamon
1 teaspoon baking soda
1/4 teaspoon salt
1 teaspoon vanilla
Directions
In a medium-sized bowl, place apples and sugar. Mix well to blend and set aside for 1/2 hour.
In a small bowl, beat egg with a fork.
In a third bowl, mix the flour, cinnamon, baking soda, salt, vanilla, nuts and raisins. Add the beaten egg and mix well to combine.
Drop the apples into the flour mixture and stir. Pour batter into 9-inch square pan and bake for 35 minutes.
Remove cake from oven and let stand for about 10 minutes before serving.