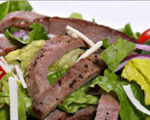 Prep: 2 min
Cook Time: 8 min
Total: 10 min
Serving: 2 People
For a high-protein salad, try this delicious option containing skirt steak, gorgonzola cheese, red onions and cherry tomatoes.
Ingredients
1⁄2 cup red wine vinegar
3 tablespoons fresh lemon juice (from 1 lemon)
2 teaspoons honey
2 teaspoons coarse salt plus extra for seasoning the steak
1 cup plus 1 tablespoon extra virgin olive oil
Freshly ground pepper
1 pound skirt steak
6 cups Romaine lettuce, torn
4 cups baby arugula
12 cherry tomatoes, halved
1⁄2 red onion, thinly sliced
4 ounces Gorgonzola, coarsely crumbled
1 tablespoon dried oregano
Directions
Prepare the vinaigrette by combining the vinegar, lemon juice, honey, two teaspoons of salt and oregano in a medium bowl. Whisk in the olive oil in a thin, steady stream. Season to taste with pepper and set aside.
Season the steak with some salt and pepper. Heat the olive oil in a medium skillet or grill pan over medium-high heat for one minute. Add the steak and brown for three to four minutes on each side if you like your steaks done medium-rare or longer for well done. Transfer the steak to a cutting board to rest while you make the salad.
Combine the lettuce and the arugula in a large bowl. Add the tomatoes, onions and half of the cheese. Toss the salad with enough of the red wine vinaigrette to lightly coat it. Cut the steaks crosswise into thin slices. Arrange the steak slices on top of the salad and drizzle more vinaigrette over the steak slices. Sprinkle with the remaining cheese and serve.