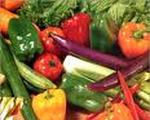 Prep: 20 min
Cook Time: 10 min
Total: 30 min
Serving: 8
Chunky Vegetable Bulgur Salad is perfect for vegetarians.
Ingredients
2 cups bulgur
2 1/2 cups boiling water
2 lemons
1 tablespoon olive oil
1 small red onion, finely chopped
1 cup cherry tomatoes, halved
1 medium zucchini, chopped
1 medium yellow summer squash, chopped
1/2 cup loosely packed fresh mint leaves, chopped
1/2 cup loosely packed fresh parsley leaves, chopped
salt and pepper
Directions
In large bowl, stir together bulgur and boiling water. Cover and let stand 30 minutes or until liquid is absorbed.
Meanwhile, from lemons, grate 1 teaspoon peel and squeeze 1/4 cup juice; set aside. In a nonstick skillet, heat oil over medium high heat until hot. Add onion and cook 3 to 4 minutes or until beginning to soften. Add tomatoes, zucchini and squash and cook 6 to 8 minutes or until vegetables are tender, stirring occasionally.
Stir vegetables into bulgur with lemon peel and juice, mint, parsley, 1/2 teaspoon salt and 1/4 teaspoon coarsely ground black pepper.