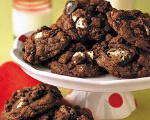 Prep: 15 min
Cook Time: 20 min
Total: 35 min
Serving: 3 1/2 dozen
Double chocolate with white chocolate chunk cookies.
Ingredients
2 cups flour
1 1/2 teaspoons baking powder
1/2 teaspoon salt
1 1/2 cups packed brown sugar
3/4 cup butter, softened
1 teaspoon vanilla
2 eggs
4 (1 ounce) squares unsweetened chocolate, melted and slightly cooled
12 ounces white chocolate, chopped or 1 (12 ounce) package white chocolate chips
1 cup chopped nuts (optional)
Directions
Preheat the oven to 350 degrees Fahrenheit.
Mix together the flour, baking powder and salt.
Beat the butter, brown sugar and vanilla in a bowl. Mix in the eggs, blending well. Add in the melted chocolate. Slowly add in the flour mixture, mixing well after each addition. Blend in the white chocolate and nuts.
Drop heaping tablespoonfuls 2 inches apart onto cookie sheets. Bake for 11-12 minutes or until set. Cool for 1 minute before moving to wire racks.