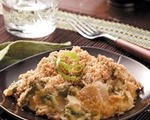 Prep: 30 min
Cook Time: 30 min
Total: 1 hr
Serving: 6-8 servings
A creamy, cheesy, chicken and broccoli casserole dinner.
Ingredients
1 (!6 ounce) package frozen broccoli spears
3 cups cooked, diced chicken
1 (10 ounce) can cream of chicken soup
2 tablespoons milk
1/3 cup mayonnaise
2 teaspoons lemon juice
3 tablespoons butter, melted
1 cup breadcrumbs or cracker crumbs
1/3 cup shredded cheddar cheese
Directions
Preheat the oven to 350 degrees Fahrenheit. Grease a 9x13-inch dish.
Prepare the broccoli according to the package instructions. Drain. Spread in the bottom of the prepared dish. Sprinkle a teaspoon of salt over. Top with the chopped chicken.
Mix together the soup, milk, mayonnaise, lemon juice and 1/4 teaspoon pepper. Heat just until the soup has diluted and pour over the chicken.
Combine the butter, breadcrumbs and cheese. Sprinkle over the soup.
Bake for 30 minutes or until the mixture is hot and bubbly.