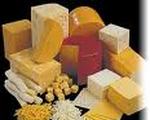 Prep: 15 min
Cook Time: 35 min
Total: 50 min
Serving: 6
Hey Cookie! Rustle up some Chuck Wagon Tortillas.
Ingredients
1 pound ground beef
1 tablespoon garlic, minced
1 1/2 tablespoons chili powder
1 1/2 teaspoon ground cumin
4 burrito sized flour tortillas
1, 11 ounce vacuumed packed corn
1, 4 ounce can green chilies, chopped
1, 14 ounce can stewed tomatoes
1 1/2 cups Pepperjack cheese, shredded
1/4 cup barbeque sauce
1, 18 ounce jar baked beans
Garnishes: lettuce, red onion, sour cream
Directions
Brown ground beef and garlic in a large non stick skillet. Stir in chili powder and cumin. Cook 1 minute. Stir in beans, tomatoes, chilies and barbeque sauce and cook 3 minutes. Pour meat into a bowl and wipe skillet clean with a paper towel.
Lightly coat the skillet with non stick cooking spray and 1 lay 1 tortilla in skillet. Spread 1 1/2 cups meat mixture evenly over tortilla and sprinkle with 1/3 cup cheese. Repeat in 3 layers, ending with remaining 1/2 cup cheese.
Cover skillet and continue to cook over a low heat for 15 minutes or until cheese melts and stack is hot in the middle. Cut in wedges and serve with garnishes.