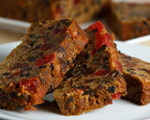 Prep: 20 min
Cook Time: 3 hr
Total: 3 hr 20 min
Serving: Two loaves of fruit cake
Say goodbye to store-bought fruit cakes, and hello to this fruit pound cake made from scratch; a wonderful Christmas treat!
Ingredients
1 cup vegetable oil
1-1/2 cup sugar
4 eggs
2 cups plus 1 cup flour
1 teaspoon baking powder
2 teaspoon salt
1 cup pineapple juice
1-1/2 pounds mixed candied fruit
1 pound light-colored raisins
2 cups chopped nuts
1 tablespoon vanilla
3 tablespoons rum or brandy
Directions
Preheat the oven to 275 degrees. Grease two loaf pans with butter or cooking spray, and line bottoms with waxed paper.
In a large bowl, blend the oil, sugar and eggs together with a handheld mixer for 2 minutes.
In another bowl, sift together 2 cups of the flour with the baking soda and salt.
Pour the oil mixture into the flour mixture and blend well with a spoon, until ingredients are mixed.
In a third bowl, mix the remaining 1 cup of flour with the candied fruit and nuts. Fold fruit mixture into the batter, mixing well. The consistency of the batter should be thick enough to hold the fruit so it does not sink to the bottom. If batter appears thin, sprinkle flour into batter until batter thickens.
Pour batter into prepared pans and place in middle rack of the oven. On the bottom rack, place a pan of water. Bake fruit cakes for 2-1/2 hours or until toothpick inserted in the middle of the cake comes out clean. Cool at least 15 minutes before serving.