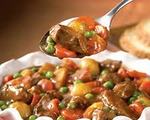 Prep: 25 min
Cook Time: 1 hr 45 min
Total: 2 hr 10 min
Serving: 10
Christmas Casserole is great for the busy shopping season.
Ingredients
1 1/4 pounds lean pork, cubed
1 1/4 pounds lean beef, cubed
1 large green pepper, chopped
1 large jar pimentos, chopped and drained, reserve juice
1 large package noodles, cooked and drained
1 can whole kernel corn, drained
1 can chicken noodle soup
1 tablespoon vegetable oil
Directions
Brown meat cubes until tender in 1 tablespoon vegetable oil. Add green pepper and pimento and pimento juice. Add cooked noodles and chicken noodle soup; mix well. Put in large casserole. Top with corn. Place in refrigerator overnight.
To serve: Remove from refrigerator and allow to warm up to room temperature before baking at 300 degrees F for 1 hour or until piping hot.