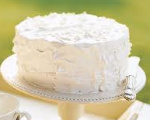 Prep: 20 min
Cook Time: 25 min
Total: 45 min
Serving: 2 9-inch rounds
Traditional cake made on the 23rd of December to be enjoyed after Christmas Eve dinner.
Ingredients
2 1/2 cups flour
2 1/2 teaspoon baking powder
1/4 teaspoon salt
3/4 cup butter
1 1/4 cups sugar
8 egg yolks
3/4 cup milk
1 1/4 teaspoons lemon flavor
1 1/4 teaspoons vanilla flavor
FROSTING INGREDIENTS:
1/2 cup sugar
1/4 cup corn syrup
2 tablespoons water
3 egg whites
2 teaspoons vanilla
Directions
Double sift the flour and baking powder together.
Beat together the butter and sugar until light and creamy. Mix in thickly beaten egg yolks. Alternately add in the flour mixture and the milk and flavorings. Mix well.
Pour into greased 9 inch pans and bake at 375 degrees Fahrenheit for 25 minutes.
To make the frosting, mix together the sugar, corn syrup and water. Cover and bring to a brisk boil, uncover and boil until hard ball stage is achieved. eat the egg whites until stiff peaks form. Slowly pour in the syrup while beating the mixture. Stir in vanilla.