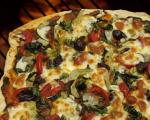 Prep: –
Cook Time: –
Total: –
Serving: Makes 4 (10-inch) pizzas
Heat up the grill and make a distinctively delicious grilled pizza that tastes like it just came out of a wood-burning oven. Use our Grilled Carmelized Onion recipe with this pizza.

Ingredients
2 (13.8-ounce) tubes refrigerated pizza dough
1 1/3 cups prepared tomato sauce
12 ounces fresh mozzarella cheese, thinly sliced
3/4 cup Grilled Caramelized Vidalia Onions (recipe follows)
4 ounces cured Spanish chorizo or Portuguese linguica, thinly sliced
2 ounces (1 1/4 cups) baby arugula
2 tablespoons extra-virgin olive oil
Directions
Heat grill to medium-high heat, about 400 to 450 degrees F. and cut four pieces of aluminum foil into 12-inch squares. Spray each with cooking spray.
Separate dough into four even portions and place one piece on each square of foil. Press and stretch the dough into a circle about 10-inches round and 1/8- to 1/4-inch thick. Spray each dough circle with cooking spray.
Coat the grill grate with oil and place the dough, (oiled-side down) on the grill. Remove foil and shut the lid. Cook dough 2 minutes or until bubbly.
Place pizza rounds on a cutting board, grilled side up. Top each with tomato sauce, cheese, onions, chorizo or linguica, and arugula, then drizzle with olive oil.
Place the pizzas on the grill and cook over medium-low heat with the lid shut about 5 minutes or until the cheese melts. Be sure to watch pizza because they can easily burn. Slice and serve.