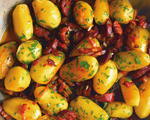 Prep: 10 min
Cook Time: 55 min
Total: 1 hr 5 min
Serving: 4 Servings
There are two types of chorizo: Mexican chorizo, spicy sausage made with fresh pork, or Spanish chorizo, spicy sausage made with smoked pork. Use either one for this recipe as the flavors will be different but equally as delicious.
Ingredients
3 tablespoons butter
5 tablespoons sunflower or olive oil
2 ounces chorizo sausage, peeled and thinly sliced
3-1/2 ounces thickly sliced bacon, cut into 1/2-inch wide strips
3-1/4 pounds small, new potatoes, unpeeled and scrubbed clean
1 tablespoon chopped fresh parsley
1 clove garlic, finely chopped
Sea salt and freshly ground pepper
Directions
Place the butter into a large sauté pan over medium heat. Once melted, add the chorizo and the bacon and cook, stirring constantly, for 2 minutes. Add the potatoes to the pan, sprinkle with a pinch of salt and pepper, and then cook over low heat for 50 minutes, shaking the pan frequently.
Remove the pan from the heat and sprinkle the sausage mixture with the chopped garlic and parsley. Toss the mixture to combine and then serve immediately.