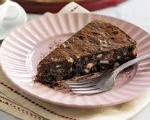 Prep: 30 min
Cook Time: 40 min
Total: 1 hr 10 min
Serving:
Chocolate spice cake with homemade frosting.
Ingredients
4 (1 ounce) squares unsweetened chocolate
2/3 cup shortening
2 cups flour
2 cups sugar
1 teaspoon baking powder
1 teaspoon soda
1 teaspoon salt
1 teaspoon cloves
1 teaspoon cinnamon
1 tablespoon brewed coffee
1 1/2 cups buttermilk
3 eggs
2 teaspoons vanilla
FROSTING INGREDIENTS:
2 egg whites
1/2 cups water
1 1/4 cups sugar
1 1/2 teaspoons corn syrup
1 teaspoon vanilla
1 cup walnuts, chopped
Directions
Melt the chocolate, set aside to cool.
Soften the shortening, sift in the flour, sugar, baking powder, soda, salt, cloves, cinnamon and coffee. Beat in one cup of buttermilk until well blended. Stir in the remaining buttermilk, eggs, chocolate and vanilla. Thoroughly mix.
Pour into a greased and floured 9x13 inch pan. Bake at 350 degrees Fahrenheit for 40 minutes.
To make the frosting, place the water, sugar and corn syrup in a double boiler. Heat, beating constantly, until hard ball stage is reached.
Stiffly beat the egg whites. Slowly pour the syrup in while beating. Blend in vanilla. Fold in nuts.