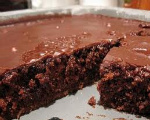 Prep: 15 min
Cook Time: 20 min
Total: 35 min
Serving: 1 cake
Chocolate cake with chocolate pecan icing.
Ingredients
1/2 cup buttermilk
1/4 teaspoon soda
4 tablespoons cocoa
1 cup butter
1 cup water
2 cups sugar
2 cups flour
3 eggs
2 teaspoons vanilla
ICING INGREDIENTS:
4 tablespoons cocoa
1/2 cup butter
7 tablespoons milk
2 teaspoons vanilla
1 box powdered sugar
1 1/2 cups pecans
Directions
Blend together the baking soda and buttermilk and set aside for 10 minutes.
In a heavy skillet, heat the cocoa, butter and water until well blended.
Sift the flour and sugar together in a large bowl. Mix in the cocoa mixture. Add the eggs, buttermilk and vanilla. Blend until well mixed.
Pour the batter into a greased and floured 10x15inch cake pan. Bake at 400 degrees Fahrenheit for 20 minutes.
To make the icing, heat the cocoa, butter and milk in a skillet. Sift the powdered sugar into a bowl, add in the cocoa mixture, vanilla and pecans. Stir until well mixed and spread over the hot cake.