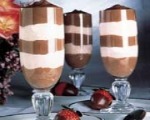 Prep: 15 min
Cook Time: 3 min
Total: 18 min
Serving: Serves 18 people
Chocolate Pudding Shooters combines white and dark chocolate pudding to form this double chocolate treat. Serve in mini cocktail glasses with tasting spoons to add a bit of fun to this yummy dessert.
Ingredients
1 cup sugar
6 tablespoons cornstarch
1/4 tablespoon salt
4 cups heavy whipping cream
4 cups milk
9 eggs, lightly beaten
3/4 cup white chocolate chips
3/4 cup semi-sweet chocolate chips
1 teaspoon vanilla extract
Directions
In a heavy saucepan, combine sugar, cornstarch and salt. Over medium heat, slowly add cream and milk and bring to boil, stirring constantly; reduce heat and stir with a whisk until thickened (3 minutes); stir in eggs.
Remove from heat and pour half of hot mixture into a medium, heat-safe bowl; stir in white chocolate chips until melted; add half of vanilla extract; pour additional hot mixture into second medium, heat-safe bowl and add semi-sweet chocolate chips until melted, then add rest of vanilla extract. Layer white and chocolate pudding in cocktail glasses.