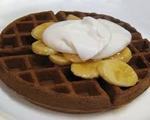 Prep: 10 min
Cook Time: 15 min
Total: 25 min
Serving: 6 servings
Pancakes or waffles made from crowd-pleasing chocolate and Kellogg's All-Bran®
Ingredients
375 millilitres (1-1/2 cups) all-purpose flour
75 millilitres (1/3 cup) granulated sugar
50 millilitres (1/4 cup) cocoa
15 millilitres (1 tablespoon) baking powder
1 millilitres (1/4 teaspoon) salt
250 millilitres (1 cup) All-Bran® original cereal
425 millilitres (1-3/4 cups) 2-percent milk
1 egg (or 2 egg whites)
50 millilitres (1/4 cup) vegetable oil
Directions
In medium bowl, mix flour, sugar, cocoa, baking powder and salt. Set aside.
In large mixing bowl, mix together cereal and milk. Let stand for five minutes or until cereal is softened. Add egg and oil; beat well. Add flour mixture, stirring just until combined.
Using 50-millilitre (1/4-cup) measure, portion batter onto greased preheated griddle or skillet over medium heat. Cook until light brown on both sides, turning once. Serve hot, topped with fresh berries, if desired.
For waffles: Portion into preheated, greased waffle iron. Cook according to manufacturer's directions until light brown.