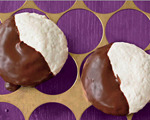 Prep: 22 min
Cook Time: 1 hr 45 min
Total: 2 hr 7 min
Serving:
The zest of one orange is all that is needed to perk up these chocolate meringue treats.
Ingredients
2 egg whites
1 pinch salt
1 pinch cream of Tartar
1/2 cup sugar, divided
Zest of 1 orange
1/3 cup bittersweet chocolate chips
2 teasoons vegetable shortening
Directions
Set racks in upper and lower thirds of oven and preheat to 250 degrees F. Line two large baking sheets with parchment paper or foil.
In a large bowl, beat egg whites until frothy. Add salt and cream of tartar and continue beating until soft peaks form. Add 1/4 cup of the sugar and beat until soft and shiny peaks form. Fold in remaining sugar and orange zest until just combined.
Spoon or pipe mixture onto baking sheets about 1/2-inch apart. Bake for 45 minutes or until crisp ad then turn off oven and cool meringues with the oven door open about 1/2-inch for about 45 minutes. Remove baking sheets from oven and cool meringue cookies completely on a rack for 15 minutes.
In a small saucepan, heat chocolate chips and vegetable shortening over medium-low heat, stirring frequently, for 1 to 2 minutes or until just melted and mixture becomes smooth. Transfer chocolate to a small, shallow bowl. Dip meringue cookies in the mixture.
To store, layer chocolate-orange meringue cookies between sheets of waxed paper and place in an airtight container at room temperature for up to a week.