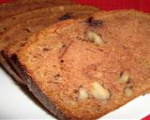 Prep: 15 min
Cook Time: 1 hr 15 min
Total: 1 hr 30 min
Serving: 2 loaves
Ingredients
6 cups sifted flour
1 teaspoon salt
2 cups sugar
6 teaspoons baking powder
1/2 cup cocoa
2 eggs
2 cups rich milk
1 tablespoon butter, melted and cooled
1 cup chopped pecans
1 cup ground pecans
Directions
Preheat oven to 325 degrees Fahrenheit. Grease 2 loaf pans.
Stir together the flour, salt, sugar, baking powder and cocoa. Sift into a large bowl.
Beat the eggs with the milk, add to the dry ingredients and mix.
Thoroughly mix in the butter and both nuts. Divide between the two loaf pans.
Bake for 1- 1 1/4 hours until toothpick inserted in the center is clean.
Put on a rack to cool, and allow to stand 24 hours before cutting.