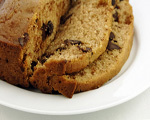 Prep: 15 min
Cook Time: 50 min
Total: 1 hr 5 min
Serving: Makes 5 loaves
Consider baking several loaves of this sweet and nutty bread to share with friends during the holidays.
Ingredients
5 eggs
3 tablespoons instant coffee
2 teaspoons vanilla
2-1/4 cups flour
1 teaspoon baking soda
1/4 teaspoon salt
1 cup butter
2 cups sugar
3 ounces unsweetened chocolate, melted
1 cup buttermilk
1/2 cup dried cherries
1/2 cup finely chopped nuts
Directions
Preheat oven to 350 degrees.
Mix together eggs, instant coffee and vanilla.
In a separate bowl, combine flour, baking soda and salt; set aside.
Cream butter and sugar, then mix into egg mixture.
Stir in slightly cooled chocolate; mix thoroughly.
Blend in flour combination with buttermilk.
Fold in cherries and nuts.
Pour batter into prepared loaf pans.
Bake at 350 degrees for 50 minutes.