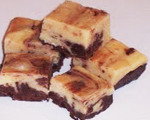 Prep: 10 min
Cook Time: 15 min
Total: 25 min
Serving: 10
Chocolate Marble Squares are swirls of chocolate in a tender buttery cake.
Ingredients
1 cup and 2 tablespoons flour
1/2 teaspoon baking soda
1/2 teaspoon salt
1/2 cup margarine, softened
6 tablespoons sugar
1/2 cup walnuts, chopped
6 tablespoons brown sugar
1/2 teaspoon vanilla
1/2 teaspoon water
1 egg
1, 6 ounce package chocolate chips
Directions
Sift together flour, soda and salt. Blend margarine, sugar, brown sugar, vanilla and water. Beat in egg, then add flour mixture. Add walnuts. Spread in a greased 9 by 13 inch baking pan. Sprinkle with chocolate chips
Bake at 375 degrees F for 1 or 2 minutes. Remove from oven, run knife through dough to marbelize. Return to finish baking for 12 to 14 minutes. Cool and cut into bars. Do not overbake.