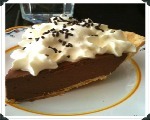 Prep: 1 hr 25 min
Cook Time: 35 min
Total: 2 hr
Serving: Serves 8 people
This pie is as tempting as it is delicious! Chocolate Fudge Pie is one of the ultimate holiday desserts!
Ingredients
1 pre-packaged 9-inch pie crust
6 ounces semi-sweet chocolate, chopped and shaved (for the garnish)
1/2 cup (1 stick) unsalted butter
3 large eggs
1/8 teaspoon kosher salt
1/2 cup granulated sugar (plus and extra 3 tablespoons)
1-1/2 cups heavy cream
Directions
Preheat your oven to 375 degrees. Place a pie pan on a baking sheet. Prick the pie crust all around with a fork. Line the pie crust with aluminum foil. Use pie weights (or dried beans) to weigh down the crust, to the top. Bake the crust for about 20-25 minutes, or until the edges are firm. Remove the foil and weights, and continue to bake for about 10 minutes, or until the crust is golden.
Reduce your oven to 325 degrees. Using a saucepan, simmer water. Add the chocolate and butter to a heat-proof bowl, and place it over, but not in, the saucepan. Stir until the chocolate and butter are melted.
With an electric mixer, beat the eggs, salt and 1/2 cup of the sugar until fluffy. Fold about a third of the egg mixture into the chocolate, and then add in the remainder slowly.
Pour the mixture into the pie crust and bake until it's puffy and starting to crack (about 20-25 minutes). Cool the pie for about an hour, then chill it in the refrigerator.
Beat the heavy cream with the rest of the sugar until peaks form. Spread the mixture on top of the pie filling and garnish with the shaved chocolate.