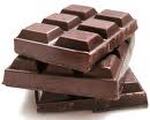 Prep: 15 min
Cook Time: 15 min
Total: 30 min
Serving: 6
Chocolate Filled Breakfast Crescents will wake up the sleepiest guest.
Ingredients
2 cans refrigerated crescent dinner rolls
1 cup confectioner's sugar
3 tablespoons milk
1 teaspoon vanilla
1/4 cup unsweetened cocoa
3 tablespoons pecans, chopped fine
Directions
Separate crescent dough into 16 triangles.
Beat butter in small bowl until creamy. Gradually add confectioner's sugar until well blended. Beat in milk and vanilla. Add cocoa; beat well. Stir in pecans.
Spread chocolate mixture on each triangle within 1/2 inch of edge. Roll up; start at short end of triangle and roll to opposite point. Press all edges to seal completely.
Place point side down on ungreased cookie sheet; curve slightly to form crescents.
Bake at 375 degrees F for 12 to 15 minutes until golden brown. Remove from sheet to wire rack. Cool to room temperature.