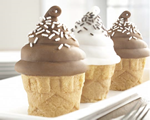 Prep: 24 hr
Cook Time: 20 min
Total: 24 hr 20 min
Serving: 24
Treat your guests with an old-fashioned (and easy to make) favorite!
Ingredients
1 quart vanilla ice cream
24 Mini ice cream cones
10 oz. choclate, chopped
Directions
Line a baking sheet with parchment paper and place in the freezer. With a small ice cream scoop, firmly place 1 scoop of ice cream on each mini cone. Place the filled cones on the backing sheet in the freezer. Freeze overnight.
Place the chocolate in a small bowl. Set the bowl over (but not touching) a small saucepan of simmering water until the chocolate is melted, stirring constantly with a rubber spatula. Ideally, the chocolate should be melted and runny but not too hot. (If the chocolate seems too thick, add 1 tsp. of vegetable shortening.)
Remove the bowl from over the hot water.
One at a time, take the cones from the freezer, hold them upside down, and dip the ice cream into the chocolate, making sure the chocolate covers all of the ice cream. Return each cone to the baking sheet in the freezer immediately after dipping.
If the chocolate becomes thick, simply set the bowl over the simmering water again. Freeze the dipped cones 2 hours or more before serving.