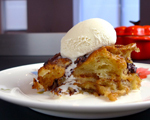 Prep: 20 min
Cook Time: 50 min
Total: 1 hr 10 min
Serving: Serves 4-6
This recipe uses croissants instead of bread, for a new twist on a classic bread pudding. Use 1 to 2-days old croissants for a better texture.
Ingredients
6 croissants, cut into 1-inch cubes (about 3-1/2 cups)
2 cups half-and- half
2 cups heavy cream
Pinch salt
4 ounces semisweet or bittersweet chocolate, chopped
6 eggs
1 cup sugar
Directions
Place the cubed croissant in a baking dish.
Pour the half-and-half cream and heavy cream into a saucepan and sprinkle with the salt. Heat over medium-high heat, while stirring occasionally to prevent sticking.
When the cream mixture begins to simmer, remove from heat and add in the chocolate. Mix with a wire whisk until chocolate has melted.
In a large bowl, combine the eggs and the sugar, then slowly whisk in the chocolate mixture.
Using a sieve, strain the chocolate cream mixture over the croissant cubes and let sit for 15 minutes until well absorbed.
Meanwhile, preheat the oven to 350 degrees.
Place some paper towels on the bottom of a large, 2-inch deep baking pan and fill the pan with boiling water. Put the pan with the bread pudding inside the baking pan and place in the oven. Bake for 45 minutes. Serve warm with a scoop of ice cream on top.