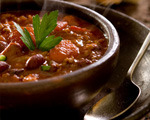 Prep: –
Cook Time: –
Total: –
Serving: 6-8 People
Try something new night at your house tonight by adding a bit of bittersweet chocolate to your chili. Your taste buds will taste the smooth, balanced taste of just a hint of chocolate and chili, but the kick from the cayenne pepper, hot chilies and chili powder will wow you, all at the same time!
Ingredients
1-1/2 pounds ground turkey
Olive oil (enough to barely coat the bottom of your pan)
1 white onion, diced
3 cloves of garlic, minced
1 jalapeño pepper, diced finely
2 cups cooked pinto beans or 2 cans kidney beans, rinsed and drained
1 jar of stewed tomatoes (fresh is best, but 1 large can of crushed tomatoes can be used)
1 (10 ounce or larger) can tomatoes with chili peppers
1 tablespoon dried oregano
1/2 teaspoon ground cinnamon
1 teaspoon cayenne pepper (to your taste)
1 teaspoon chili powder (to your taste)
Salt and pepper (to your taste)
1/3 cup bittersweet chocolate chips
Directions
In a large skillet over medium-high heat, brown your turkey.
Remove it from the skillet and drain. Add the olive oil, onion, garlic and sauté until the onions are translucent.
Add the meat, tomatoes, beans, tomatoes with chilies and seasonings (all to your taste), stirring to combine.
Bring to a boil, then cover and reduce the heat to low. Simmer for a couple of hours, stirring occasionally -- tasting to see if any other spices are needed.
Add the chocolate chips just before serving, stirring well to melt the chocolate into the chili.