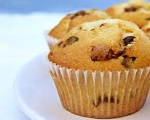 Prep: 20 min
Cook Time: 30 min
Total: 50 min
Serving: 1 dozen
Chocolate chip muffins with a delicious surprise in the middle
Ingredients
1 1/2 cups unsifted all-purpose flour
1/2 cup sugar
2 teaspoons baking powder
1/2 teaspoon salt
1 egg, slightly beaten
1/2 cup milk
1/4 cup vegetable oil
1/2 cup miniature semi-sweet chocolate chips
1/4 cup apricot or peach preserves or apple jelly
Directions
Preheat oven to 400 degrees Fahrenheit. Grease 12 muffin cups.
Mix the flour, sugar, baking powder, and salt. Stir in the egg, milk and oil, just until blended.
Fill the muffin cup 1/4 full. Add 1 teaspoon of chocolate chips and 1/2 teaspoon of the preserves. Finish filling the cup until 2/3 full with batter.
Bake for 25-30 minutes.