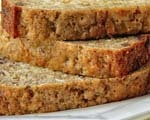 Prep: –
Cook Time: –
Total: –
Serving: Makes 1 loaf
This sweet and simple chocolate chip oatmeal quick bread will be a hit at your next breakfast or brunch.
Ingredients
2 cups all purpose flour
1 cup rolled oats
1/2 cup sugar
1/2 cup brown sugar
2 teaspoons baking powder
1 teaspoon baking soda
1/2 teaspoon cinnamon
1/2 teaspoon salt
1/2 cup chopped walnuts
1/2 cup miniature chocolate chips
1 1/2 cups buttermilk
2 large eggs
1/4 cup melted butter
Directions
Preheat oven to 350 degrees F. Butter and flour a loaf pan. In a large bowl, combine the flour, oats, sugars, baking powder, baking soda, cinnamon, salt, walnuts and chocolate chips. Mix well. In another bowl, whisk together the buttermilk, eggs and melted butter.
Make a well in the middle of the dry ingredients. Pour in the wet ingredients and bring together with swift but gentle strokes. All the dry ingredients should be moistened, but the batter will be a little lumpy. Scrape into the loaf pan. Bake about 50 minutes. A cake tester should come out clean. Allow to cool a few minutes before turning out of the pan. Finish cooling on a cooling rack.