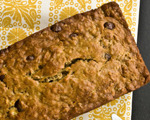 Prep: 10 min
Cook Time: 1 hr
Total: 1 hr 10 min
Serving: Makes 2 loaves
You can test most desserts' doneness by inserting a sharp knife or better yet, a toothpick straight down into a dessert's center and then lifting it straight out. If it comes out 'clean' (without any crumbs or batter sticking to it) the dessert is done.
Ingredients
6 ripe bananas
1/2 cup melted butter
1/2 cup canola oil
1 cup sugar
1 cup brown sugar
2 eggs beaten
1 teaspoon salt
2 tsp baking soda
4 cups flour
1 bag dark chocolate chips
Directions
Preheat your oven to 350 degrees F and grease 2 loaf pans.
Place the banana into a large bowl and mash well with a fork.
Add the melted butter, stir to combine, and then continue to incorporate each ingredient in the order listed above, mixing well after each individual addition.
Transfer the batter to the prepared loaf pans, filling each 3/4 full, and then place in the oven for about 1 hour, or until a toothpick inserted into the middle of each loaf tests clean. Allow the bread to cool slightly prior to serving.