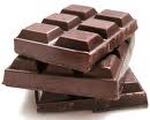 Prep: 3 hr 10 min
Cook Time: 10 min
Total: 3 hr 20 min
Serving: 8
Chocolate Chiffon Pie will melt in your mouth.
Ingredients
1, 9 inch chocolate cookie crumb pie shell
1 tablespoon unflavored gelatin
1/2 cup sugar
1/4 teaspoon salt
1 1/4 cups milk
1, 6 ounce package semi-sweet chocolate morsels
1 teaspoon vanilla
2/3 cups ice cold evaporated milk, whipped
1/2 cup whipping cream, whipped
Directions
Mix gelatin, sugar and salt in the top of a double boiler. Add milk and chocolate, reserving one tablespoon of chocolate for garnish. Place over boiling water and cook, stirring occasionally, until gelatin is dissolved and chocolate is melted. Remove from heat and beat with a rotary beater until blended. Add vanilla.
Cool until the mixture mounds when dropped from a spoon. Fold in whipped evaporated milk and pour into pie shell. Chill until firm.
Garnish with slightly sweetened whipped cream and remaining chocolate morsels.