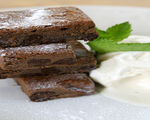 Prep: 10 min
Cook Time: 40 min
Total: 50 min
Serving: 9
Chocolate is, by far, the most coveted and consumed dessert food—seemingly addictive. The chemical complexity of this feel-good food has been shown to increase endorphin levels, act as an anti-depressant, and to have stimulant qualities.
Ingredients
1 (8 ounce) package reduced-fat cream cheese, softened at room temperature
1 cup light sour cream
⅓ cup unsweetened cocoa powder
2 tablespoons cornstarch
⅔ cup sugar
2 eggs
⅓ cup semisweet chocolate chips
Directions
Preheat oven to 325 degrees F.
Coat an 8-inch square baking dish with nonstick cooking spray.
Line dish with a 12-inch piece of parchment or wax paper.
Spray paper with nonstick cooking spray.
Lay a second 12-inch piece of parchment or wax paper in the dish going in the opposite direction so sheets are crisscrossed.
Press second sheet into dish and spray with nonstick cooking spray.
Set aside.
Place cream cheese and sour cream in a food processor or in the bowl of a stand-up mixer fitted with a paddle attachment.
Blend until smooth.
Add cocoa powder, cornstarch, sugar, and eggs.
Blend until smooth, scraping down the sides of the bowl as needed.
Pour the mixture into the baking dish and sprinkle with chocolate chips.
Place in oven on middle rack and bake until just set, about 35 to 40 minutes.
Remove from the oven and let cool on a wire rack for 20 to 30 minutes, then transfer to the refrigerator for at least 1 hour.