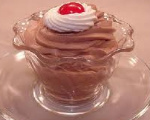 Prep: 20 min
Cook Time: –
Total: 20 min
Serving: 6 servings
Rich and creamy chocolate bavarian dessert. Quick to make in the blender.
Ingredients
1 1/2 tablespoons unflavored gelatin
2 teaspoons instant coffee powder
1/4 cup cold water
1/2 cup hot water
1 (6 ounce) package semisweet chocolate pieces
1 tablespoon sugar
dash salt
1/2 teaspoon vanilla
2 egg yolks
1 1/4 cups finely crushed ice
1 cup whipping cream
Directions
Combine the gelatin, coffee, cold and hot water in the blender. Blend on high for 40 seconds.
Mix in the chocolate, sugar, salt and vanilla. Blend until smooth.
Keeping the blender going, add in the egg yolks, crushed ice and cream. Continue blending until the mixture thickens.
Pour into sherbets and chill for 10 minutes.